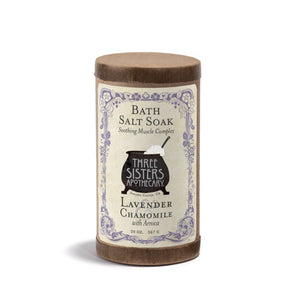 Three Sisters Apothecary
Lavender & Chamomile Bath Soak - 18 oz.
Regular price
$11.00
$0.00
Lavender & Chamomile Bath Salt Soak gently relaxes the body with mineral rich Ocean and Epsom salts. The potent combination of aromatic Lavender and Chamomile essential oils combine with Arnica and natural botanicals to soothe tired muscles, relieve aches and detoxify the body while replacing needed nutrients.
• Ultra soothing Lavender calms naturally. These fragrant blossoms contain more than 100 active beneficial compounds to pamper and nurture the body.
• Arnica, harvested from the flowers of the Arnica Montana plant has been shown to alleviate pain and swelling from minor cuts, sprains, bruising and soreness.
• Roman Chamomile, highly valued for its many beneficial properties by ancient Egyptians, Romans and Greeks was regarded as a sacred herb. The flower-heads of chamomile have excellent properties for supporting skin health.
• Epsom salts, rich in magnesium and sulfates, support a healthy circulation, regulate electrolytes and detoxify the body while softening skin and supporting sore muscles.
• Pacific Sun Dried Sea Salts rich in calcium, potassium and magnesium add valuable trace minerals to the bath, softening the water naturally and gently cleansing the skin.
Directions: Add 2 ounces of Bath Salt Soak to bath. Allow salts to dissolve in water for maximum detoxification benefits.
Packaged in reusable glass jar, return for refill and refund of jar deposit.
Cruelty free.
---
More from this collection