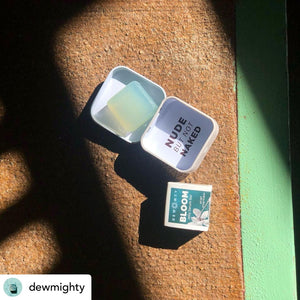 Dew Mighty
Dew Mighty - refill
Regular price
$45.00
$0.00
KICKSTART YOUR HEALTHY SKIN CARE ROUTINE.
Buy once and refill for it's lifetime. This essential starter kit pairs our BLOOM (Nourish + Calm) Jelly Serum Bar together with a refillable container.
NT/WT 10.5g (60 Days of Supply, 120 Applications)
WONDERING WHAT'S A SOLID SKIN SERUM?
We removed the water and the complications by choosing only the purest natural based ingredients to deliver vitamins, antioxidants, nourishing elements, and calming compounds to your skin. How is this possible? Pure magic. Don't believe us? Take a look at our ingredients. We made sure to use the best nature and science had to offer, at the correct levels, because we care about quality and results. Dryness, aggravators, uneven spots, stressors, and fine lines don't stand a chance when you have BLOOM at your fingertips.
PATENT PENDING & DERMATOLOGIST TESTED
PAO 24 Months
***SUPPLY TIME OF TWO MONTHS IS ESTIMATED BASED ON TWICE DAILY APPLICATIONS TO THE FACE
---
More from this collection