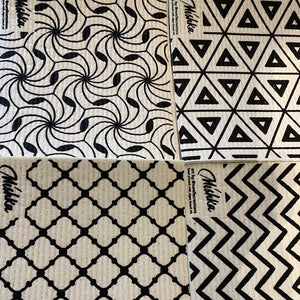 Mishka Hands
Swedish Dish Cloths
Regular price
$6.00
$0.00
Replace up to 17 rolls of expensive, wasteful paper towels with just one of these ingenious Swedish towels.  Each of these cloths can absorb 20 times its own weight in liquid, like a super efficient eco friendly cleaning sponge.  And imagine the money you'll save over time.  17 paper towel rolls generate about ten pounds of waste, and cost a pretty penny.  And then there's that plastic packaging - it can take over 100 years to biodegrade!
By contrast, these eco friendly cleaning towels are all-natural, completely machine washable, totally reusable and easily compostable.  No compost pile?  No Problem!  You can recycle used up Swedish dish towels with your old newspapers.  
Made in Sweden and handprinted in the Bay Area with Algae Ink. Four styles.
Reusable | Compostable | Plastic Free | Zero Waste | Sustainable |
---
More from this collection