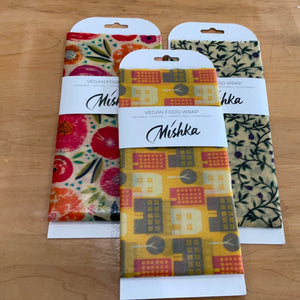 Mishka Hands
Vegan Wrap - Extra Large Bread
Regular price
$15.00
$0.00
Vegan wax food wraps naturally preserve and prolong the life of your produce, fresh herbs, greens, cheese, leftovers, snacks, baked goods and more. They are the perfect eco-friendly, sustainable, natural alternative to plastic wrap. Perfect for kids' lunches, snacks, covering jars, and anything else you can think of. Great for in the fridge and out.
Use the warmth of your hands to soften the wrap to create a breathable seal. When cool, the wrap will hold its shape.
Bread Wrap Pack includes one 23"x 17" vegan wax wrap.
Perfect for wrapping a loaf of fresh bread, a large bunch of kale & spinach or cover a rising dough or platter.
Wrap | Wash | Reuse
Made with 100% pure candelilla wax, Natural tree resin, Organic Jojoba Oil infused into 100% cotton cloth. Patterns may vary slightly pack to pack. Hand Made in the Bay Area, California by Mishka Hands. Lasts one year or longer. Then simply put it on the compost or refresh!
Wash in cold water with a mild dish soap. Hang or lay flat to dry. Reuse it. No microwaves, dishwashers or hot temperatures. Avoid raw meat and fish.
Reusable | Compostable | Plastic Free | Zero Waste | Sustainable |
---
More from this collection