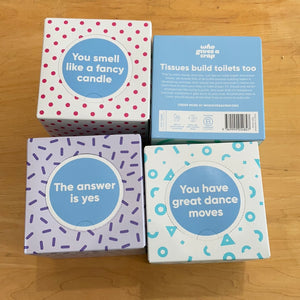 Who Gives A Crap
Forest Friendly Tissues
Regular price
$1.69
$0.00
Bless you? Gesundheit? No matter how you say it, these 100% bamboo tissues can handle everything from the strongest sneezes to the softest sniffles. Salud!
Our tissues are strong enough for the biggest sneezes, yet soft enough for the smallest sniffles. We make our tissues with bamboo, unlike most of those big cat supermarket brands. The softest paper comes from destroying virgin trees and we're not in the business of deforestation.
We're not so keen on killing trees, which is why our tissues are made with 100% bamboo fibers. A lot of people don't realise that bamboo is a grass, not a tree. It grows incredibly quickly, making it a sustainable source for tissues. So you can help reduce deforestation with every… ah… ah… achoo!
-

 
Each box has 65 tissues
-

 
Tissues are 7.7″ x 8.5″ each
-

 
No inks, dyes, or scents
---
More from this collection