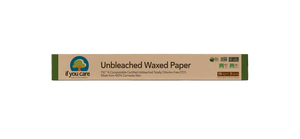 If You Care
Waxed Paper - Natural - 75 sq. ft.
Regular price
$8.79
$0.00
Just like your mom's old favorite – only better! Made from FSC certified unbleached paper and coated with 100% natural carnauba wax, it's ideal for wrapping foods without affecting flavor. Conventional waxed paper is coated with paraffin wax – a petroleum based product. Carnauba wax is a plant-based, renewable agricultural source. If You Care Waxed Paper is certified GM Free and compostable. It is ideal for food preparation and wrapping.
Like all If You Care paper products, our Waxed Paper is totally chlorine-free, so no chlorine or chlorine derivatives are dumped into our lakes, rivers and streams.
Packaging may vary.