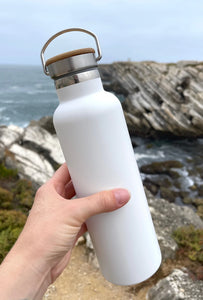 Me Mother Earth
Mother Earth-Stainless Steel Water Bottle / Bamboo Top (25 oz) White
Regular price
$30.00
$0.00
Holds 25oz of your favorite drink.
Double wall vacuum insulated means cup is never hot to touch.
Leak proof.
Made from 18/8 food grade stainless steel.
Sweat free exterior.
Ideal for hot and cold drinks.
Fits most cup holders.
Why choose an eco-friendly water bottle?
Water bottles are a necessity, when we need a drink on the move. The problem is that plastic water bottles are bad for the planet. 50 billion of them are used in the US each year. These bottles take 17 million gallons of oil to produce. Producing less of these bottles means there is less drain in fossil fuel resources and less damage to the environment from the use of fossil fuels.
Many of the plastic bottles used are disposable. An average American uses 167 disposable water bottles each year. Once these bottles have been used, they end up in landfill and in the oceans where they pollute and kill. This is why using an eco-friendly reusable water bottle makes sense.


The benefits of a stainless steel water bottle
As much as 70% of stainless steel is made from recycled material, and it can be recycled. Stainless steel is also toxin free. This makes it the ideal choice for use in making an eco-friendly water bottle. This stainless steel water bottle is made to last. You only need to buy one water bottle and you are good to go because it comes with a lifetime warranty. You can enjoy drinks that remain cool and fresh for up to 24 hours, for the rest of your life.
---
More from this collection