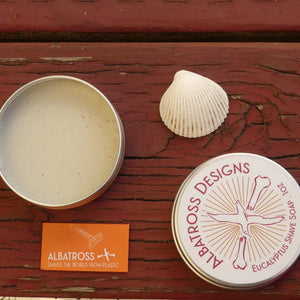 Albatross
Albatross-Eucalyptus Grove Shave Soap
Regular price
$7.99
$0.00
INSPIRED BY CALIFORNIA'S COASTAL EUCALYPTUS GROVES.  LUBRICATES EFFECTIVELY, LATHERS LUXURIOUSLY AND SOOTHES LIKE NOTHING ELSE.  

Just wet your hands and rub on the soap to create a thick lather, or better yet use our vegan shaving brush to make an even thicker lather. 
Surf trips on the California coast where we often camp in eucalyptus groves near the ocean inspired us to make this shave soap. Waking up to the scent of Eucalyptus and the sound of the ocean evokes only the best of vibes and mental outlook. Our Shave Soap is not overpowering, yet invigorates with a calming energy and pleasantness. We love it and guarantee this will enhance your plastic-free shaving experience!
This shave soap is available in 1 oz. and 4 oz. sizes. Please note we use slightly oversized tins so that there is enough room in the tin to make a thick lather. Tins are filled by weight and not to the top.
INGREDIENTS:
Water, Soy Wax, Coconut Oil*, Lye [Potassium Hydroxide], Castor Oil*, Lye [Sodium Hydroxide], Cocoa Butter*, Sodium Lactate, Eucalyptus EO, Bentonite Clay, Mango Butter*, Shea Butter*, Vegetable Glycerin, Jojoba Oil*, Lemongrass EO                                        [* Organic] [EOs are EcoCert/COSMOS approved]
---
More from this collection