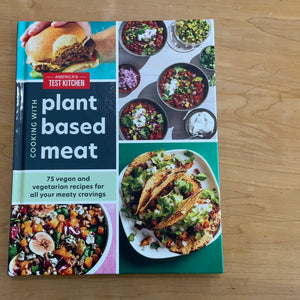 America's Test Kitchen
Cooking With Plant-Based Meat
Regular price
$27.99
$0.00
This must-have guide to cooking with today's new plant-based meats includes all the satisfying, sustainable recipes you actually want to eat.
Available everywhere from grocery stores to fast food chains, today's meat alternatives like Impossible Burger and Beyond Meat impressively replicate the taste and texture of meat. Now, the recipe experts at America's Test Kitchen show how to cook successfully with these modern meat mimickers--producing juicy, savory, meaty flavor--and transform them into a broad array of mouthwatering dishes that make sustainable meat-free eating feel luxurious.
We've tested our way through the plethora of meat alternatives so we could guide you to the tastiest and most reliable. Learn how to use them in 75 exciting dishes, including:
Snacks and apps: Meaty Loaded Nacho Dip, Jamaican Meat Patties, and Pan-Fried Dumplings.
Burgers and tacos galore: Grilled Smokehouse Barbecue Burgers, Double Smashie Burgers, Chorizo and Potato Tacos, and Crispy Fried Tacos with Almonds and Raisins.
Saucy pasta favorites: One-Pot Stroganoff, Weeknight Tagliatelle with Bolognese Sauce, Meatballs and Marinara, and Lion's Head Meatballs.
Fast and easy dinners: Quinoa Bowls with Meatballs, Green Beans, and Garlic Dressing; Meat-and-Bean Burritos; and Stuffed Zucchini with Spiced Meat and Dried Apricots.
Ever wondered how can you tell when plant-based meat has reached ideal doneness, or how to cope with sticking? You'll find the answers here to these questions and many more. And you'll discover cooking techniques that will keep you inspired long-term.