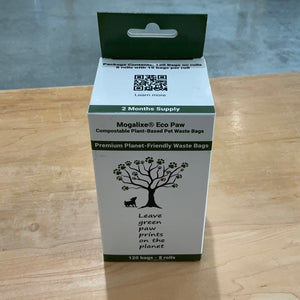 BioBag
Mogalixe Compostable pet waste bags (120 bags)
Regular price
$10.49
$0.00
Mogalixe Eco Paw Waste Bags - Biodegradable Compostable Unscented Refill Rolls - Dog Pet Poop Bags - Earth Eco-Friendly -Home and Industrial Compost certified - Highest ASTM D6400 Rated - Guaranteed Leak Proof - Extra Thick - 120 Count - Large - Size:  9 x 13 Inches
ENVIRONMENTALLY FRIENDLY: Plant-based Bags. Biodegradable in landfills and home or industrial compost. Fully breaks down, leaving no harmful toxic residues behind. Highest rated ASTM6400. Passed the most restrictive home and industrial compost certifications. The plant-based raw material is developed and made in the USA, using only abundant, surplus crops.
TOP QUALITY: Made with a unique formula that keeps the best features of biodegradable bags, yet the quality is as strong as plastic bags. Extra thick and large size:  9 x 13 Inches. 120 bags total:  8 rolls with 15 bags per roll. Each roll fits perfectly in standard dispensers.
We also found this composting dog waste at home article very interesting. Be sure to do your research about home dog waste composting before adding any dog waste to your backyard compost piles.
50 count
---
More from this collection