Ah, Plastic Free July.  That time when we go to picnics, beach outings, and lots of gatherings, and awkwardly notice how much stuff is packaged in plastic. But... what is it, why do we keep talking about it, and what does it mean to me? Plastic Free July is a movement that originated in Australia in 2011 and has since become a global phenomenon.  It's a way to bring awareness to the plastic pollution crisis, and bring ideas and resources to help individuals avoid single-use plastics.  They put together an annual challenge for the month of July to see how many single-use...
---
• Plastic Free July • Starter Kit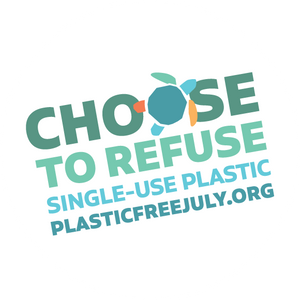 It's almost that time... time for Plastic Free July! This campaign was where it all began for me. I saw an multipage article in the San Francisco Chronicle about the pervasiveness of plastic pollution, and the pictures of trash strewn over beach after beach hit me. Then I heard about the Plastic Free July movement, and I've never been one to shy away from a challenge. Grocery shopping was eye opening. So was opening the bathroom cabinet. Shopping for the personal care products that I had used in my bathroom was the hardest! Our goal is to make it easier for...